International, Large-sized Work of Art in Dokk1
The internationally recognised artist duo Elmgreen and Dragset, currently living in Berlin, will build a new large-sized work of art at high international level in Aarhus.

The duo, known for works in London, Rotterdam and Madrid among other things, has won the task to build a unique work of art in Dokk1with their project Magic Mushrooms.

The work will put a unique mark on the house and become vital to the experience of Dokk1.
Magic Mushrooms
The work Magic Mushrooms is in two parts and it will decorate two large and central building components in the house:
The underside of the media ramp, which is a large, tilted ceiling surface beneath the building (14x29 metres)
The central point of ascension, a column of lifts, that ascends through the entire building (10x25 metres)
One part of the work consists of a model of an imaginary and exotic big city which will be placed upside down on the underside of the media ramp. The city is realistically represented on a scale of 1:100 with a size of 11x 29 metres and a maximum height of 2 metres. Lighting of the city is also a part of the work.

The other part of the work consists of a large colour print-out which is placed on the wall at the central point of ascension in Dokk1. The print-out reproduces the imaginary city as it would appear on Google Earth. Parts of the print-out will be visible from all levels within the house.
The Dream of an imaginary world
Elmgreen og Dragset say about their work:

'The dream of an imaginary world has always existed. Cities that cannot be reached physically but can only be grasped through our ability to imagine. Our suggestion for Dokk1 depicts ar-chitecture within the architecture: an imaginary city which challenges the visitor's perception and invites new points of view depending on where you are in the building

Among the reasons for choosing Elmgreen and Dragset's work is that it is estimated artistically to be at a high international level and that its quality may provide iconic value which in itself attracts visitors.

The total financial framework for constructing the work is 6.7 mill. DKK.
The Main Library and Citizens' Services of the future
Dokk1 is currently under construction at the harbour in Aarhus and it will become the city's new Main Library and Citizens' Services.

Dokk1 is part of the vast urban renewal project Urban Mediaspace Aarhus in which the former industrial harbour will be transformed into a city space and an integrated part of the city centre.
More information about Urban Mediaspace Aarhus [1]
More information about Dokk1 [2]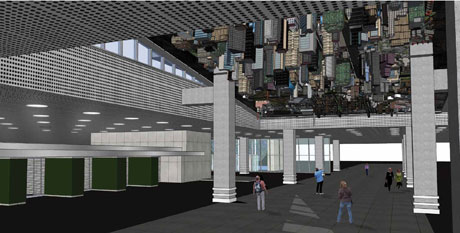 [3]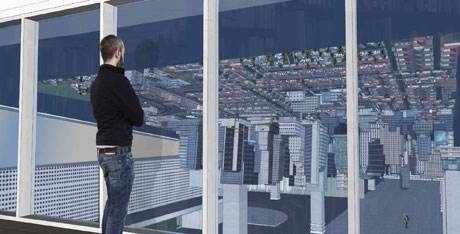 [4]